WOODWARD — W-G competed in both the boys and girls 400 low hurdles at the state meet last year as well as in the girls 100 high hurdles and the boys medley relay.
Unfortunately for the Hawk girls, Abby Musser (6th in the 100 hurdles and third in a school record time in the 400 lows) has graduated, with Kaleb Noel (ninth in the boys 400 lows) gone, along with Cole Ashman, who filled a key role in the medley relay that placed 16th.
Filling Musser's role will be all but impossible, as she was one of the most-decorated thinclads in school history, and while replacing Noel and Ashman will not be easy, their are runners ready to move into the gaps.
The Hawk thinclads have an unusual co-coaching arrangement, as Brent Achenbach generally handles sprinters and George Ashman the longer distances. The coaches share duties at the middle duties and field events, leaving both coaches instructing members of both the boys and girls squads.

Ashman said he believed it would be at the middle distances — 400 and 800 meters — that the Hawk boys would be strongest.
Chandler Cavanaugh and Tanner Vermaas return to run the 200-meter legs of the medley relay and Johnnie Morgan the 800 anchor, with the search for a new face at 400 meters already underway.
"It could be any of several guys," Ashman said. "The thing about relays is that it takes awhile to get them sorted out and a lot depends upon the meet you are at and who you have running in other events."
Morgan, Ian Thompson, Josh Saak and J.P. Nixon were mentioned as possibilities at both 400 and 800, with Thompson likely the choice at 1600 while the 3200 remains an open question and may be left uncontested by the Hawk boys.
Payton Tague and Nixon are among those being looked at in the 100 and 200-meter races, with Vermaas also in the mix along with Gabe Yingst.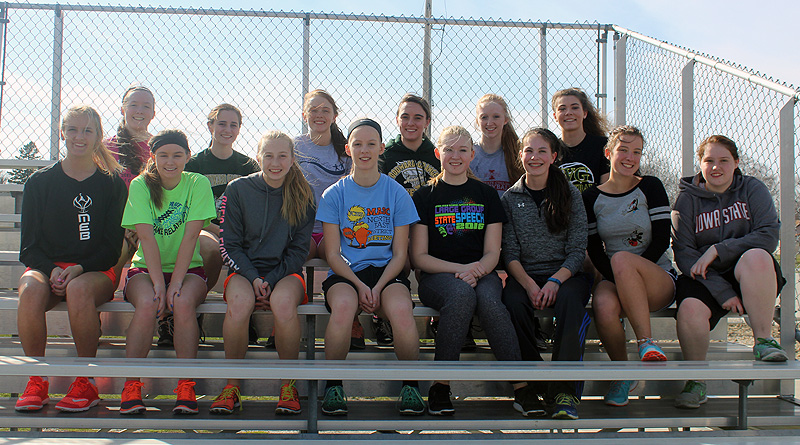 "For the guys it is almost the same as it is for the girls this year — we have a lot of freshmen and some new faces and we are still trying to sort things out," Ashman said. "The key is to stay healthy and get better throughout April so that once May gets here everything has fallen into place and you are starting to hit your peak."
Hurdle duties may fall to Tague and Yingst for the W-G boys, with Josie Noland a possibility for the Hawk girls.
Brendan Bird, Logan Canova, Brody Easter and Devon Kirkman will compete for throwing duties for the boys and Emma Buckman and Nicole Roberts, among others, for the W-G girls while Gavin Pearson may compete in the boys high jump.
While the Hawk girls are unlikely to have anyone in the high jump, they, like the boys, have openings available at the long jump.
"We are waiting to see who can show us they deserve the spot," Achenbach said. "Right now we don't have anybody really standing out, so if someone wants to earn the job it is there for the taking."
While Achenbach was unsure of who would fit where in the girls sprinting distances, he said Kaitlyn Peters, Riley Jamison, Anna Tague, Maddisyn Anderson and Kayley Dresback were early leaders at 400 meters, with Anderson, Reagan Kaufman and Jamison at 800 meters.
"Mary Hansen will run 400 and 800 and maybe some 200's, and Alyssa Bice and Josie Noland are probably at 200 and 400," he added. "Savannah David might be put in the 400 low hurdles and we will be looking for spots for Nicole Johnson and Ashlyn Soelberg as well."
Hannah Nelson was mentioned at 1500, with the 3000 — like the boys 3200 — still doubtful.
"There could be some surprises, especially in the younger kids, so I hesitate to say anything is set for certain," Achenbach said. "We will  be using the first few meets to see where everything fits. All I know for certain is that some people will end up running in races they don't want to run in but that the team needs them to run in. That is always going to be the case at small schools."
Both W-G squads will open their season April 5 at the Panorama Relays before hosting the Hugh Cavanaugh Relays April 7. Both meets are scheduled for 4:30 p.m. starts.